(The Sarah Series #1)
Julieann Dove
Adult Contemporary Romance
Paperback & ebook, 333 pages
April 27th 2017
The first in a three book series called Searching for Sarah. Come meet Sarah and begin her journey....
Sarah Keller is convinced that her Mr. Right is stuck in traffic…in another country…on another planet. 'Thirty-one and still single' isn't how she wants to be introduced by her dad. That's why she's on five dating websites, posing as anything from an avid gardener to a crazed thrill seeker.
Sam Turner is a single dad, workaholic, who owns his own company. Long-term relationships have never worked out for him. That's why he needs a nanny.
When a mutual friend suggests Sarah take the job temporarily, everything changes for them both. Sarah begins falling for the man who meets almost none of her online criteria. And when strange things start happening—things that jeopardize the safety of Sarah, Sam is the last person she would imagine is hiding something.
Goodreads│Amazon│Barnes & Noble
Guest Post
Some of my top online dating movies:
Must Love Dogs…okay, I admit, this is one of my go-to movies for writing bills, organizing my desk, and just to hear it play. I have a few movies that fit this category. But this one I like because of its easy flow. Anyone could be Diane Lane. She's forced to be single, hates it, and everyone and their brother is trying to fix her up. Cheesy as it may sound, I like the poetry her on-screen dad recites. I'm a poetry geek. The only one in class that smiled when the six-week poetry unit came around. Still, I love this movie and laugh out loud every time I see the part where she goes out on her horrendous blind dates. Too funny.
You've Got Mail…forever a classic. Who doesn't love Meg Ryan and Tom Hanks? And then I discover it's a remake of "Shop Around the Corner"? I'm a sucker for old movies. But back to Meg. Movie aside, I always wanted my hair styled like hers in this movie. Alas, it was never meant to be. But her character…I thought it was precisely played to have her in a so-so relationship with her boyfriend. They liked each other enough, but when it came to love, they just weren't there. Enter Tom Hanks…a foe at first. Don't all the good relationships begin with a conflict between the hero and heroine? Well most, anyway. This is another movie I could play over and over.
Sleepless in Seattle…is this really considered online dating? It could be. Everyone hears him on the radio and starts sending letters. Okay, so it's postal dating. Eww…that sounds like angry dating, doesn't it? Postal? Anyway, another Tom and Meg classic. You could say that instead of reading his profile, he gives it audibly through radio signals. And she responds through letter. Only to have a mix-up and then a chance meeting. What can I say…a recipe for delight.
Searching For Sarah brings two unlikely people together. Sarah is a career student…fifteen years Sam's junior. Sam actually has a career…and a child. The two meet, refuse to see it for what's it's headed for, then…
I hope everyone enjoys the first installment of Sarah's journey. Meeting Mr. Right isn't just a one book deal. So I've compiled three, to make sure she gets it done right!
About the Author
Julieann Dove

lives in Virginia, yet longs to live everywhere else. It doesn't come as a surprise that along with her gypsy soul, comes an active imagination. That's why she loves to write and invent worlds and people, so that she can formulate their happily ever after. Hobbies include cooking new recipes, sewing, and spending time with her cute boyfriend/husband and five fabulous children. Vacations happen in Nantucket or the Carolina beaches—anywhere there is inspiration for her next book. One day she hopes to travel to Italy, drive one of those little cars around the countryside, and speak the language fluently!
Other Books by the Author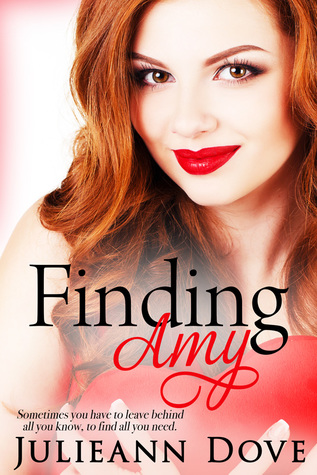 May 1st:
May 2nd:
May 3rd:
May 4th:
- 1 winner will receive a signed copy of Waking Amy (US only)
- 1 winner will receive an ebook of Waking Amy (open internationally)